About Us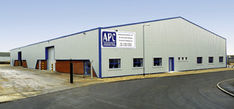 Founded in 1993 Associated Plastic Components have grown from humble beginnings into one of the countries leading suppliers of specialist GRP products to the UPVC window, conservatory and building industries.
Based on the banks of the River Humber in the East Riding of Yorkshire, the company offer a wide range of products from Canopies, Portico's and many other building products to customers large and small throughout the United Kingdom.
From the very beginning the company has striven to supply the highest quality of product at the most competitive price. We believe that our on going success can be directly attributed to the continued dedication to achieving these goals.
For most customers maintaining the shortest possible lead-time is often as vital a factor as the quality and price. APC have understood this from day one, and endeavour to supply a wide range of products from stock. Those that have to be manufactured to order can normally be despatched within 7 - 10 days.
Dormers, chimneys and porch roofs in flexible sizes are made to order yet can generally be supplied within 2 to 3 weeks of order.
All of APC products have a 10-year manufacturer's warranty, however, please note that our carports have a 5-year warranty, this is due to components parts being sourced externally.
October 2004 marked a milestone in the company's development with the addition of a second purpose built 10000-sq./ft factory to complement the existing 20000-sq./ft factory.
In response to continued customer demands new products are constantly under development. This includes an ever expanding range of high quality Door Canopies and door surrounds that are likely to be of interest to Local Authorities and Housing Associations as well as the private sector installer.
For any further information, a brochure pack or to discuss your specific needs please contact the sales department.
We are accredited to ISO9001 standard so you can be confident that you will receive the highest quality products and service.
Please note that we reserve the right to amend any specifications of our products.